Welcome to Fortaleza!!!
Fortaleza (Portuguese for fortress) is the State capital of Ceara, located in the sunny northeastern region of Brazil. With a population of more than 2.5 million, Fortaleza is a modern metropolis with greenish-blue sea, beautiful white-sand beaches, softy wind and a vibrating nightlife. Its complete tourism infrastructure and a rapidly growing industry make it one of the most important cities in the region in economic terms. Fortaleza has been for the last 3 years one of the most searched for cities in Brazil during holidays, second only to Rio. Fortaleza has a mild to warm temperature averaging at 27C (82F) all year around.
Fortaleza is very well served of top-class restaurants. From seafood to the famous brazilian barbecues, from feijoada (a black beans dish) to international cuisine (French, Italian, etc), Fortaleza has restaurants for all tastes at a very reasonable price. As an example, the top seafood restaurant in Fortaleza (called "Milmares") charges for their seafood festival R$ 32 (around US$ 15) per person.
Other places are more reasonable. Top-class Brazilian barbecue locations also charge around R$ 30 (US$ 14) per person. Apart from its many tourist and gastronomic attractions, Fortaleza holds several academic and research institutions, including three major universities (UNIFOR, UFC and UECE) and several other smaller ones. Its emerging IT industry has been attracting many IT professionals from other regions of Brazil, which has steadily increased the local demand for IT-related university courses at both undergraduate and graduate levels.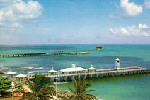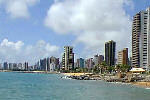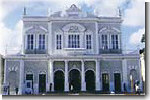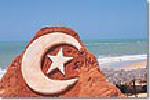 Airport (in portuguese)
Bus station (in portuguese)
Restaurants (in portuguese)
Utility
Ceares Dictionary (in portuguese)
Link about Ceara (the State) and Fortaleza (Capital of Ceara):
http://www.setur.ce.gov.br/template_setur_en"